Conspiracy of Blood and Smoke (Prisoner of Night and Fog #2) by Anne Blankman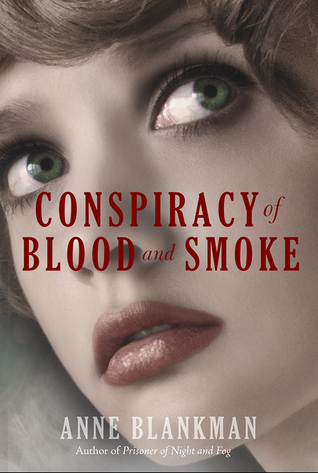 Published by: Balzer + Bray
Genre: Young Adult, Historical fiction
As a sequel I wasn't too sure about reading this. Mainly because of the topic and that I didn't know whether it would stand up to how amazing the first book was. However it was much much more thrilling.
Gretchen and Daniel have been living in England, their lives so different to the ones in Germany but on Gretchen's birthday, a telegram arrives. Daniel leaves and heads back to the place the story started. Hitler's Germany. Gretchen follows him, after recieving some money from her adoptive English family (who are super kind) and has to avoid friends, family and enemies as she tries to track Daniel down. The worst part? She sees the ones she loves, cares for get taken away by the SA/SS/police. It's a horrific thing to even imagine, let alone read. I hold a big amount of respect to Anne Blankman.
As a historical fiction aimed for young adult, I can't express how happy I was to read such a well-researched and compelling series. I was blown away by how Blankman managed to write about such a horrific time and by writing from a different perspective as well.